Described by the Washington Post as "particularly impressive" and "extraordinary" by the Pittsburgh Post-Gazette, Steven Greenman is a consummate musical artist as a violinist, composer, and educator. He is a masterful violin soloist with symphony orchestras, a soulful performer of klezmer music, and a virtuoso performer of East European folk music. Steven's influential recordings, klezmer music compositions and dedicated master classes have been internationally acclaimed.  

Steven is recognized as one of the finest practitioners of traditional East European Jewish klezmer violin music in the world today. His international performances have brought him to Krakow, Poland (Jewish Culture Festival), Fuerth, Germany (Internationales Klezmer Festival Fuerth), Harbin, China (Harbin Summer Music Festival),  Shanghai, China (University of Shanghai for Science and Technology), Ancona, Italy (Klezmer Musica Festival), and Toronto, Canada (Ashkenaz – A Festival of New Yiddish Culture). He has collaborated and performed internationally with the renowned klezmer ensembles the Klezmatics, Kapelye, the Joel Rubin Jewish Musi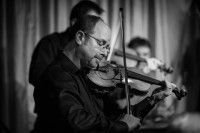 c Ensemble, Khevrisa, Budowitz, the Flying Bulgar Klezmer Band and Shtetl Band Amsterdam. At the forefront of the klezmer revival, Steven has established new klezmer ensembles with Khevrisa, Stempenyu's Dream, Di Tsvey, the R2G Klezmer Trio, Cedar's Jumpin', and the Steven Greenman Klezmer Ensemble. Steven's thrilling collaboration with master pipa-player Gao Hong, The Braided Candle, explores a unique blending of both traditional Jewish and Chinese folk music styles.           

Steven is renowned for his traditional Jewish and klezmer compositions. These original works have been recorded by international artists and researched by scholars, while two of his Jewish liturgical melodies have been published by the Shalshelet Foundation for New Jewish Liturgical Music. His landmark recordings Stempenyu's Dream (2004) and Stempenyu's Neshome (2010) have significantly expanded the traditional klezmer violin repertoire. Steven's grand composition, Klezmer Concert Suite for Solo Violin and Orchestra (2018) embodies the full expressive and virtuosic range of the East European Jewish violin. As violin soloist, Steven performed the world premiere performance with the Muncie Symphony Orchestra (2018).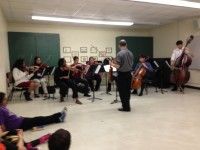 Steven is in demand as a klezmer music teaching artist. He is the founder and director of the Case Western Reserve University Klezmer Music Ensemble and has led master classes at the universities of Pittsburgh, Baylor, Cornell, Youngstown State, and the Cleveland Institute of Music in addition to Oberlin, Wesleyan, Ithaca, and Carleton colleges. Steven has been a faculty member at Yiddish Summer Weimar (Germany), Internationales Klezmer Festival Fuerth (Germany), KlezFest London, Master Class de Musica Tradicional Santiago de Compostela (Spain), KlezKanada (Lantier, Quebec, Canada), Living Traditions' KlezKamp (New York), and Klezmerquerque (Albuquerque, New Mexico). With the Cleveland Orchestra's Learning Through Music program, Steven developed children's programs combining storytelling and klezmer music. His work through the Ohio Regional Music Arts Cultural Outreach (ORMACO) involved extensive klezmer music presentations for NE Ohio's elementary school students. Steven has engaged young string players at Suzuki Music Columbus, Carnegie Mellon University's Summer String Workshop, Western Reserve Suzuki School, and Fort Wayne Suzuki Strings. In 2002, Steven was the first recipient of the Louis E. Emsheimer Memorial Artist in Residence Program in Cleveland, OH and has enriched Cleveland Ohio's Jewish community by teaching klezmer music to students at B'nai Jeshurun Synagogue, Park Synagogue, and The Temple-Tifereth Israel.          

In 2012 Steven participated in the Violins of Hope project at UNC Charlotte, performing traditional klezmer music with one of master violin luthier Amnon Weinstein's restored Holocaust violins. For Cleveland Ohio's Violins of Hope project in 2015, Steven collaborated with the Cleveland Orchestra to lead a teacher's workshop delineating Jewish musical influences in classical music. He is featured as a klezmer music historian in the WVIZ/PBS Ideastream documentary Violins of Hope – Strings of the Holocaust.    

In addition to his involvement with klezmer music, Steven is an accomplished performer of urban East European violin styles, including, Magyar nóta, Romanian lautari, Ukrainian, Carpatho-Rusin, and Slovak folk music. A performer with the Harmonia ensemble, Steven's intense study of East European folk music has brought him into contact with professional folk musicians from the Balkans, Hungary, Slovakia, Romania, Ukraine, and Russia.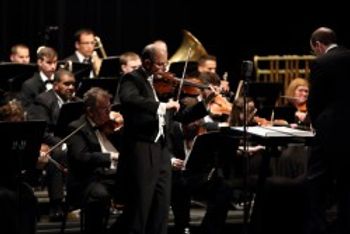 As a violin soloist, Steven performed the music of violin virtuoso David Rubinoff with the Joseph Rubin Orchestra (Rubinoff and His Violin Concert - 2018). He has performed John Williams' violin cadenzas to Fiddler on the Roof with the Cleveland Pops Orchestra, the National Repertory Orchestra, the Energy Corridor of Houston Orchestra (ECHO) and the Cleveland Institute of Music orchestra. Steven has performed his own arrangements of East European Romani violin music with the Cleveland Pops Orchestra and the Canton and Akron Symphonies. Exploring classical Chinese music, Steven has performed the famous Butterfly Lovers Violin Concerto with the Firelands Symphony, the National Repertory Orchestra, and the Chagrin Falls Studio Orchestra.         

A serious chamber musician, Steven has collaborated with celebrated early music pianist/harpsichordist Byron Schenkman as The Greenman-Schenkman Duo, an ensemble dedicated to performing the Jewish art music repertoire of the early 20th century Jewish composers from the St. Petersburg Society for Jewish Folk Music.  
               
Steven received his Bachelor of Music (1989) and Master of Music (1991) degrees in Violin Performance from the Cleveland Institute of Music studying with Linda Sharon Cerone, Dr. Eugene Gratovich, Alan Bodman and the late Bernhard Goldschmidt. His classical studies continued with Montreal's late-renowned pedagogue Yaela Hertz and concertmaster Brian Reagin. As an orchestral performer, Steven has performed with the Canton and Akron Symphony orchestras and the Cleveland Pops Orchestra. He has participated in the National Repertory Orchestra, the National Orchestral Institute, the Kent/Blossom Music Festival, the Ohio Light Opera and the American Institute of Musical Studies in Graz, Austria.

Steven is a featured performer and co-producer of Smithsonian Folkways' recording, Khevrisa-European Klezmer Music. Additional recordings include: Stempenyu's Dream and Stempenyu's Neshome (self-produced), Hidden Legacy (Harmonia), Mother Tongue (Budowitz), Rise Up! Shteyt Oyf! (Klezmatics), Fidl (Alicia Svigals), Fire (Flying Bulgar Klezmer Band)), Piety and Desire (Rabbi Neil Blumofe), Free Fall (Jesse Cook), Klezmerized (Yiddishe Cup Klezmer Band), Shifrele's Portret (Heather Klein), Songs My Bubbe Should Have Taught Me, Vol. 1 – Passover and Vessel of Song The Music of Mikhl Gelbart (Lori-Cahan Simon), and Yiddish, Ladino, Hebrew and Russian Songs (Ludmila Sorin). Steven's Jewish and klezmer compositions are also featured on various internationally released klezmer music compilation recordings.