Gypsy Violin Showpieces with Orchestra
Steven performs his own arrangements of East-European Gypsy violin showpieces. Selections include virtuosic and passionate Hungarian, Romanian and Ukrainian Gypsy violin music. Steven's orchestral arrangements of these showpieces replicate the sound of traditional East-European urban Gypsy ensembles with the lead "primas" violin accompanied by cimbalom, contra (viola), clarinet and bass using a standard classical chamber ensemble or Pops orchestra. Minimum instrumentation under 20 pieces. Each Gypsy arrangement ranges from 5 to 7 minutes in length.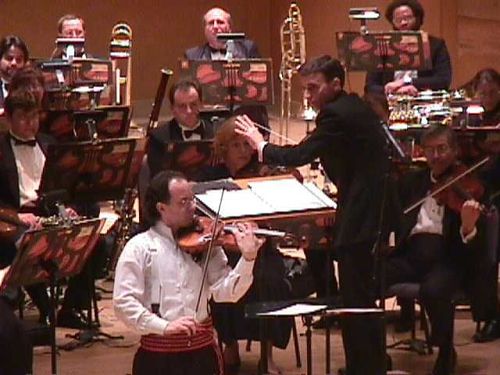 Photo by Ted Huddle
Concert possibilities include:
- Adding one or more showpieces to an already existing concert program
- A full solo concert program of all the showpieces with orchestra, ensemble or Pops orchestra
- Steven to lead your chamber ensemble as conductor and soloist in a concert of these pieces
(A demo CD of the live performances with the Cleveland Pops Orchestra available upon request).