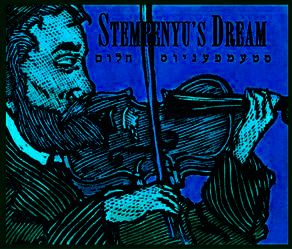 STEMPENYU'S DREAM
A CONCERT OF NEW TRADITIONAL JEWISH AND KLEZMER MUSIC
Written and Performed by Violinist Steven Greenman
with the Stempenyu's Dream Ensemble
Stempenyu's Dream performs the original Jewish and klezmer compositions of violinist Steven Greenman continuing in the tradition of the great 19th century Jewish violinist, Stempenyu of Berdichev, Ukraine and the great Jewish violin masters of Eastern Europe.  In concert Steven collaborates with some of the finest performers of klezmer music in the world today.  The music is is led by the violin and features soulful examples of stirring religious hymns, virtuoso Jewish/ Moldavian dances, spiritual nigunim, haunting violin/cimbalom duets and artistic table music for listening.
Stempenyu's Dream features the Ashkenazi Jewish violin at its most serious, artistic and virtuoso level.  The ensemble has performed internationally at prestigious venues including:  The Jewish Culture Festival of Krakow, Poland; The Ashkenaz Festival of New Yiddish Culture (Toronto, Canada); and the Internationales Klezmer Festival Fuerth (Fuerth, Germany).
The Stempenyu's Dream ensemble consists of violin, vocals, cimbalom accordion and string bass with the option of a larger ensemble also possible.